The Cure Our Children Foundation Page on: How to Help Cancer Families Directly with their Social Needs during Treatment:
This site maintained by Barry Sugarman, B.S.ENGR.
Father of Alon Sugarman, Diagnosed March 6, 1998
with Ewing's Sarcoma of the Distal Femur.


**This guide has been written for educational purposes only, it cannot be used for diagnosing or treating a health problem or a disease. If you have or suspect that you or your child may have a health problem, you should consult your doctor. Additionally, this site is not intended to provide legal advice or legal opinions. If you need legal advice or opinions, please consult your attorney.**
This page is dedicated to the memories of Jason Charles and Gordon Kazarinov-Hawk whose parents have shown their courage and grace to all by assisting other families with children undergoing treatment for cancer. I start off with my own top 20 list of ways to help families, and continue with articles from Jennifer Charles and Samantha Kazarinov-Hawk. Also included is an article from an experienced patient and family advocate, Gary Suboter, along with some useful links and resources at the bottom of the page.

...Barry Sugarman, B.S.ENGR., President, The Cure Our Children Foundation
---
Barry Sugarman's Top 20 List with helpful links:
1) Offer to stay overnight at the hospital with the child and give the parents a break.
2) Bring over a nicely packaged meal delivered meal or meals or order them here or here so they can be refrigerated and eaten when desired.
3) Pick up or purchase items that are needed at the hospital so the parent can stay with the child.
4) Take care of and baby-sit the sibling or let the sibling sleep over at your house.
5) Call ahead to the hospital or at home and offer specific assistance.
6) Stay at the hospital for a few hours and play a game or computer game with the child being treated.
7) Coordinate information to and from the child's friends and schoolmates, and bring in assignments from the school
8) Call the child in the hospital regularly and tell a joke, but do not wake them by calling too early or too late.
9) Send funny emails, email jokes, books, video tapes, toys, pictures, and any other fun stuff to the hospital.
10) Offer to coordinate blood drives to have volunteer blood ready for transfusion.
11) Have someone who plays a musical instrument such as a guitar play and sing in the patient's room.
12) Solicit gift certificates from local restaurant owners so the family can eat out or order food for free.
13) Offer to be the one who calls or emails all the parent's extended family and friends with messages.
14) Give rides to the child's friends or schoolmates so they can visit while in the hospital.
15) Try to buy, borrow, or get a donation of an Internet-Ready laptop computer for the child.
16) Pick up the latest Game Boy game or other hand held electronic game for the child.
17) See if you can get tickets to a local amusement park donated or given to the patient and family.
18) Give tickets to a local first run movie to the family for in between chemotherapy treatments.
19) Try to get tickets for the patient and family to a baseball, football, hockey, or other sporting event.
20) See if the local gasoline station, grocery store, toy store, and drug store will donate gift certificates.

---
Here's an article from Jennifer Charles:
How to help the family that has a child with Ewing's Sarcoma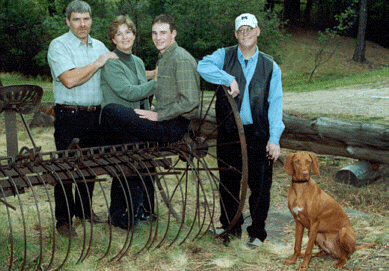 by Jennifer Charles mailto:jcharles@ix.netcom.com
In honor of Jason Charles
Empathy
If you can, do a little research (Barry - you may want to list sites that have simple explanations) on your own to grasp a little basic understanding of what Ewings is.) And then try to imagine this prognosis to your child, your spouse, your dearest friend. Just the very word "cancer" is so hard to say without feeling some level of fear. True, we have so far to go + but we also have come so far in the treatment of many kinds of cancer and the treatment's side affects.
From our experience, many of our friends did not know what to say. And by not knowing + eventually avoided us. After a period of time, they were embarrassed or uncomfortable.
Here are some ways to break the ice:
Dropping a hello or "thinking of you" over e-mail or sending a card.
Ask someone else close to the family what you can do or how things are going.
Drop over a fruit basket or call to pick up the kids from school.
Drop over (with your dog) and offer to take their pet for a walk.
Call and ask if you can stop by for a FEW minutes tomorrow. Don't say "call me when you want to visit or need something".
That first time, tell them how very sorry you are. Don't try to be a "fix it" or be overly optimistic, pessimistic, or talk about other's you know with cancer. Just tell them that you'll be there for them. That you will keep in contact often to see what you can do to help out.
How to find out what the family needs?
When you talk to the family, tell them to concentrate on being with their child. Ask them to talk over a typical daily schedule and what needs to change.
One of my friends organized a dinner schedule. She called my friends, neighbors, her friends, etc. and asked if they could bring over dinner on a particular night. She told them to bring items that could be frozen or reheated easily. My friend reassured this dinner list and myself that nobody was going to worry about thank-you cards + so don't bother keeping track. I had dinners frozen for weeks. When she knew another "crisis" was at hand, she called them all again.
When I had a lot of company, one of my friends brought over a cooler of pop and juice, paper plates, cups, and plastic silverware. I thought this was very original!
Call and say you were going to the grocery store, what can I get you?.
If a family goes out of town, offer to take the pet, watch the house, pick of mail, etc.
Call and offer to pick up the other siblings for bowling, a sleep over, a baseball game + what ever.
When a child is in the hospital for a long stay, ask if you can come for a couple hours so they can go home for a nap, run errands, go shopping, or going for a walk.
I had friends and family encourage me to play a quick game of racquetball, go cross country skiing, or an evening walk. It is hard to leave your child, so plan on short events.
Ask if they want you to be a contact person so when your child is in surgery or having problems you (the family member) are not bombarded with phone calls.
We had people bring us card games, board games, books, and other items besides food.
Cleaning house can be a sensitive subject, some people are just uncomfortable with this. I had a professional company come and clean my house, bathrooms, shower etc. I thought it was a great idea, though kind of hard the first couple times.
Surround them with love, laughter, and togetherness. Don't bring pessimism or personal issues up, but just be supportive. Sometimes the best thing you can do for a family member is just an old fashion hug!
I'll write some more when something comes to mind .
Jennifer
---
And here's another article from Samantha Kazarinov-Hawk:

With kind regards,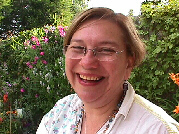 Samantha Kazarinov-Hawk
Falcon's Rest
29, College Hill Road
Harrow Weald,
Middlesex HA3 7HG
musical.infants@btopenworld.com

Member, The Ewing's Sarcoma Online Support Group
E-SARCOMA@LISTSERV.ACOR.ORG

And here is a picture of my son Gordon: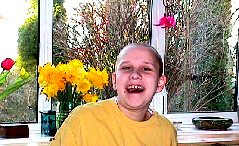 Hi Everyone!

The idea of organising a help page about what friends and family (or complete strangers, actually!) can do is so obvious, I wonder why we didn't all think of it long ago! Jennifer has outlined a lot of things that people have done for her, which I took as a guide for myself several months back.

Here is the help I have received:

Social Services Community Care (UK London Region): AM: Carer to help with dressing, washing, breakfast, LUNCH:Meals on Wheels or Carer if needed, PM: Carer to prepare evening meal, sit with Gordon. A few hours a week cleaning. Social services also leveled my drive for wheelchair access to my front door and put in railings throughout the house.

Transport: Friends took Gordon to and from chemotherapy, radiotherapy, doctors' appointments, lent me their car when mine was in the shop, drove us to major consultations with specialists when Gordon was first diagnosed and after his relapse, drove Gordon to his friends' houses when I was teaching, and collected Gordon from various hospitals.

Food: Friends have cooked meals on the spot, provided them for later, for the freezer, gone shopping, and shopped on the Internet for me. Friends have also taken us out to eat, as a family and singly.

Friendship and contacts: My family and friends list contains 46 members, some of them local, others in 4 continents. Additionally, I send out about a dozen copies of each to family and friends email by post. Everyone knows what is going on--whether they want to or not--so I don't have to spend hours on the phone going over the same thing again and again.

Schools: Gordon's school has been superb, supporting him every step of the way. The headmaster, head of Lower School, teaching staff, secretarial staff, and medical staff have all been wonderful. Their generosity of spirit has made it possible for Gordon to find deep emotional support for himself. If you live in the UK, you can arrange for your child to be taken to school and picked up and delivered home at the end of the day. You can also receive home tuition whilst undergoing treatment.

My son Kit's school has been less than helpful, though his Housemaster has spent considerable time with Kit trying to help him through this terrible time. Whether Kit will be able to continue his studies remains to be seen, as he is emotionally fragile, and will need professional help.

Help with dying: There is little by way of paediatric hospice in the UK, but the Great Ormond Street Hospital in London has an outreach arm which it uses to set up a local team of doctors and community nurses so that there is a continuous link between ourselves and community facilities. This has taken over a fortnight to organise, however, and it is not yet in place. Had I not had private medical cover for 'emergency' visits to the Portland Hospital, I don't know how I would have coped. I fully intend to supplement the Marie Curie Nurses, who are on call 24/7 but do not stay overnight, with private nurses. I need to mention here that I am extremely fortunate that my contract covers private nursing; most do not.

Friends to go through the last stages with you: Like Jennifer, our house has been full of friends and family since we learned that Gordon has relapsed. This support is vital. My sister came from the US as soon as she could get a flight over and stayed for a fortnight. Last week, we had people cooking meals, Gordon's friends came over with his best friend Richard sleeping overnight, and there was lots of soulful listening to me. When we go to Florida, we will be met by family, and my sister-in-law is coming to hold the fort until we get back and is then spending over a week with us. She has nursing experience from nursing a friend with AIDS when his friends deserted him. Before she goes, a childhood friend is coming to stay indefinitely.

Psychological support: I have seen a consultant psychotherapist for some months after Gordon went into treatment last year. I have also seen the head of child psychiatry at our local hospital to talk only about Gordon, how his illness was affecting the family, and my understanding of the psychological implications of the medical options I have chosen. Gordon was seeing a Registrar at the same hospital for psychological support, but, because it was on the NHS, there was no continuity from person to person, which he found confusing and emotional painful because he had to go over the diagnosis and the history of his illness each time. Despite my best efforts, not one of 17 consultant paediatric psychotherapists I contacted was willing to take on the case of a 13-year old child with cancer, despite the fact that he has been on treatment and the outlook was positive.

Pills for mother (and beloved others): I have been taking sleeping pills for the past year and a half. If I don't sleep, I can't work, and if I can't work, I can't pay for the running of the household. I don't like taking anything, but I seem to be living from crisis to crisis, and have had to delay coming off them until the dust settles a bit. There are beta-blockers on the market which help with anxiety, anti-depressants, tranquilisers, and muscle-relaxants on the market. There are also many effective herbal/energetic remedies available, such as the Bach Flower Remedies to help manage different moods, homeopathic remedies to manage stress, and vitamins and food supplements to keep up stamina and prevent physical collapse.

Pastoral support: Local facilities vary. My parish priest paid us a courtesy call, told me he had never dealt with a case of a sentient young person dying, and vaguely mumbled something about putting Gordon on the prayer list. A friend recommended I talk with her rabbi, and though I'm not Jewish, the rabbi saw me, talked to me with great compassion, and I walked away feeling that perhaps this wasn't going to be the end of the world, only the end of a part of it. A friend who is an Anglican (Episcopalian) priest in another parish has been very supportive, and though he admitted he also hadn't done this before, he left no doubt that he would be there 100% for Gordon, myself, and the boys. I have also had many people put us on the prayer lists in their churches, synagogues, Hindu and Jain temples, and Buddhist temples. Several of my friends are spiritual healers and have laid hands on Gordon, done Reiki (which I still don't know about but feels very good), and performed healing ceremonies. Many, many people are praying for us all over the world, and I derive enormous comfort from visualising the links from their candles and prayers to us.

I hope this helps.

With kind regards,

Samantha

---
And here's another article from Gary Suboter: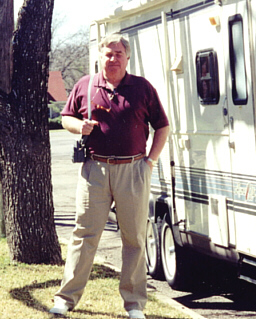 by Gary Suboter, email:gsuboter@yahoo.com

Barry, here some thoughts on what I do as an advocate when working with a family:

1. Assist them in planning their financial situation. Commonly, one of the parents of a two parent working family, must give up their job. That can really throw the family budget for a loop. I don't need to get into the fine details of their situation, but rather to get to think about the impact this illness is going to place on their financial situation.

2. Health Insurance. Make certain of the limits of the insurance plan. If there is minimal or no health insurance, then guidance must be there for them to cover the costs of the illness. Hospital social workers are fine, but are mainly interested in covering the hospital charges. Federal and state and charitable agencies must be contacted and brought into the picture.

3. Vehicles. Illness requires a reliable mode of transportation. Prepare a maintenance plan for the main vehicle that will be used for the patient.

4. Single mothers are a special situation as the entire burden falls on them. That's mainly who I work with. Pastors, parents, friends, neighbors all must be recruited to assist. Much of this should be done by a third party advocate as more can be asked and more given.

5. The 'third person' (advocate) must be out in front of the situation helping to anticipate needs and demands on the mother. Assure, as much as possible, that their attention is spent on the child and leave the other things to the 'helper'.

6. Plan meals two weeks at a time and assign families to provide that particular meal. Pick up all dishes so as not to cause a mess at the child's house.

7. Using local businessmen, get whatever is needed in the way of extra gasoline, oil changes, tires, tune-ups, etc. People are more than willing to help if approached in the right way.

8. The 'third person' (advocate) should send thank you's and replies for the family. Be sure the family gets a copy of all correspondence. Encourage them to write also.

9. Parents need to have precious time researching and looking for information. As much as possible, guide them in the right direction and save them time. If you don't know the answer, ask someone who does.

There are many more things that will come up in the course of a child's illness. BE THERE for the mother and the child. Let them know that they have someone to lean on and depend upon. Treat them as though they were your own........as that's what they will become.

gary

=====
Gary Suboter
"PROJECT JOY & HOPE for TEXAS"
"HOSPICE of EL PASO"
"TAKE MY HAND"
El Paso, Texas
http://www.joyandhope.org
---
Resources on Care Giving and Social Assistance:
· Association of Oncology Social Work, Phone: 847 375-4721, Fax: 847-375-6321
· Cancer Care, Inc., Phone: 800-813-HOPE, 212-302-2400, Fax: 212-719-0263
· The Wellness Community, Phone 888-793-WELL, 513-421-7111, Fax: 513-421-7119
· National Family Caregivers Association, Phone: 800 896 3650, Fax: 301 942 2302
· Brave Kids.org, Phone: 415-561-2393, Fax: 815-461-6614
· Excellent List of Wish Granting Organizations from the University of Wisconsin, Phone: 608-263-2400
· National Institute of Health Web Site for Children with Cancer, Phone: 1-800-4-CANCER
· Social Services Infonet, Phone: 858-695-8803, Fax: 858-695-0416
· National Association of Social Workers, Phone: 800-638-8799, 202-408-8600
· International Federation of Social Workers, Switzerland, Phone: 41-31-382-6015, Fax: 41-31-381-1222
· Child Life Council, Phone: 301-881-7090, Fax: 301-881-7092

---
© Copyright, 1998, 1999, 2000, 2001, 2003, 2005, Barry Sugarman, B.S.ENGR., All Rights Reserved.
Phone 310-355-6046, FAX 310-454-9592


Return to our Home Page: http://www.cureourchildren.org
This site last updated on May 27, 2005